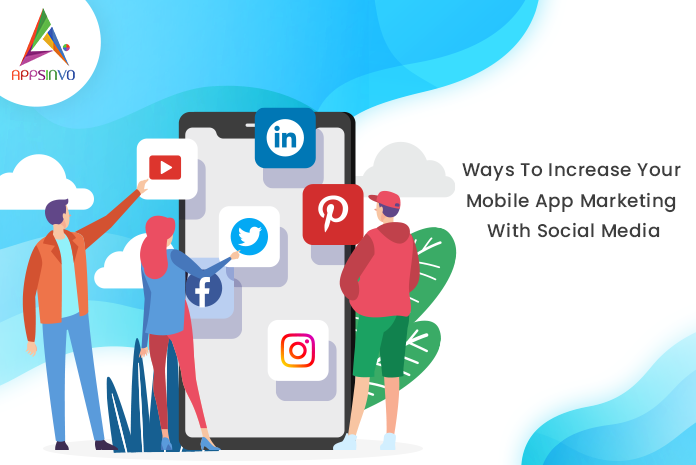 Many days and late-night hours our development team put in developing a mobile app for the user.
Every user has the expectation to become a smash hit on the google play store and apple app store.
But it is not easy to be stand out your app from 2.6 million mobile apps for users to choose and download the app.
You can use paid-advertising for marketing the app but for this, you need some financial resources.
Now, I must say you are definitely thinking about the cost-effective ways to market your mobile app.
There are many other ways but social media marketing is the best method for marketing your app.
In today's blog, we will tell you some cost-effective ways to maximize mobile app marketing by using social media.
Why Social Media Marketing Strategy is Important?
There are many users who spend most of the time on social media, this gives you more opportunities than before to engage with the more active users.
Perhaps this is one of the main reasons to use social media to marketing your mobile apps.
A study reveals the most popular reason to use social media for marketing your app is to increase traffic, generate leads, boost engagement, improve sales and build a loyal fanbase. 
Because of all these advantages, social media marketing is leading to digital marketing and the priority of social media marketing.
Ways of Social Media Marketing for Apps
Build Personality and Community
Make sure that you've picked the right kind of personality or tone your brand is going for, and you need to be constant in that.

Use the platforms Instagram, Facebook, Youtube, LinkedIn, Twitter, etc to connect and grow a fan base.

Begin interactions or conversations with users online, throw contests or games give perks such as promo codes, referral programs, in-app items' price drops keep users occupied.

Most importantly, focus on to get good reviews and ratings about your app, promote word-of-mouth.
Must share Powerful Trailer
Videos are a more effective way to promote mobile apps, especially games.
Posting a visually appealing trailer of your app on social media enables people to discover more about what your app does, its different selling points,  create a buzz, where to download it and how to use it.

Not only that, but an efficacious trailer can also aid to build people's interest and eagerness to use the app so that the audience would know where and how to download it or what next steps to take.
Content is the King
Content marketing is the real deal and it is just about distributing online stuff such as blogs, videos, and social media posts.

You need to be focused on bestowing quality content online because there is a lot of community pages that are popular as their content is on-point and shareable.
Remember to also be regular with your content don't be idle as users may ignore about you if they no longer see your posts.
Brands don't have to be restricted in online marketing. Be as imaginative as you can get! Share screenshots of development stages, interesting stories behind your app such as how it started, and more.
Images Worth than Thousand Words
A picture or image renders more info rather than the descriptive text. Earlier, users use a general post "Download the App" like notes with screenshots of the app.

Using photos in a really great manner to make a post about your app stand out from the crowd. You can post an image about the feature of the app or a tip for using it every day as well as add a relevant app picture with that post.

Apart from pictures, the countdown of your app release in the app stores is another great that works well.
Updates boost Customer Support
Upgrade or update your apps on a regular basis to avoid user complaints.
Use social media platforms to let people know or declare the points of concern such as the system down or bug in your app.

By using social media comments, conduct social listening or direct messages you can easily reach out to users who have specific concerns or issues about your app.
Conclusion
After reading this article you will understand the significance of social media for your mobile app marketing.
Because building an app is a different thing but developing a market for its growth and the business to make it successful.
Follow the tips given in the article for marketing your mobile apps and tell us which one is the most beneficial for you in the comments section.
For more updates, stay connected and keep reading
Toddles!!❤🙏