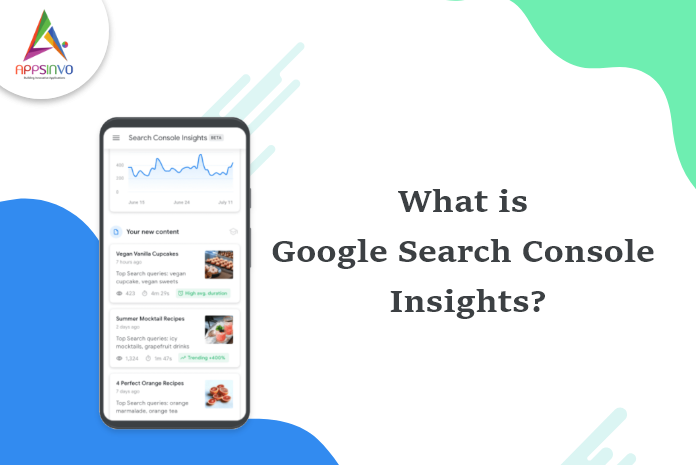 Behind every leading brand, there is an influence of great content that is there for the audience to connect with the company. Consequently, creating custom-built content is an outstanding way to get many leads and potential customers that will assist you to give your business purposes.
To assist you finest to understand which content entices your audience, Google introduces a new Search Console Insights experience. This new experience combines data from both google analytics and the search console with the aim of making it simple to comprehend the effectiveness of your content.
If you are also the owner of any website or a blogger or a content creator the Google Search Console Insights will present you with an edge and useful insights on how your content functions well or not. Let's see further information about the new Search Console Insights tool in this article.
What is Google Search Console insights?
The search console insight is a new experience, especially for the content creators and publishers. It will help them to learn how clients find their website's content and what resonates with their viewers. This new search console insight is the new experience that is powered by data from both Google analytics and Google search console. 
When did Search Console Insights First Launch?
In August 2020, google first launch Search Console Insights, some content creators got restricted access to debug it and furnish Google feedback on the reports. And now, for content creators and publishers, Google came up with the best way to offer the data they need to make informed decisions and improved their content.  
How Google Search Console Insights Assist?
Search Console Insights can help site owners, content creators, and bloggers to better understand their content's performance. For instance, below are some sample questions that this experience will help you answer:
How are your new pieces of content performing?

What do people search for on Google before they visit your content?

What are your best-performing pieces of content?

Which article refers to users of your website and content?

How do people discover your content across the web?
How to access Google Search Console insights?
The following are the ways to access search console insights
You can select 'Search Console insights' from the top of the Google Search console's overview page.

You can easily access it from the 'Google Search Console in the search results feature.

Use this link to reach it immediately and save a bookmark

For iOS phone users, they can select the google search console in the account menu. Google is also operating to add android google support.
Conclusion
Google has been testing search consoles for approx a year. As per Google, the search will gradually be rolled out to all search console users in the coming days. Through definite data google analytics in the search console render the superior benefit that will aid you to manage your data in a new way. Do not think about the performance of your content, just check the google console insights to know the performance of your content and ideas to improve it.
Till then, stay safe, stay at home, wash your hands, and be happy 
For more updates, stay connected and keep reading
Toddles!!