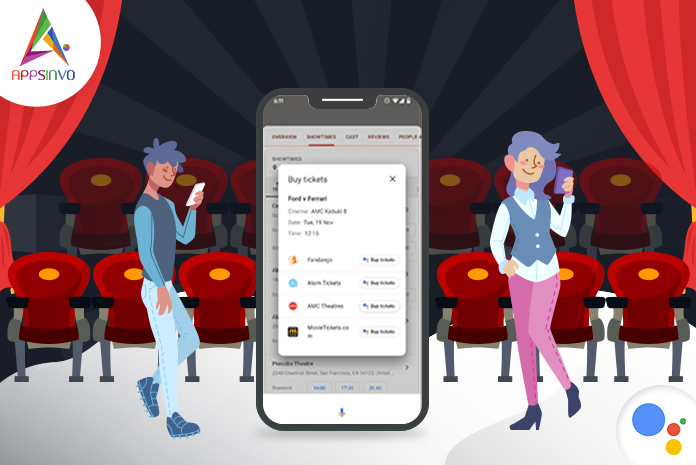 We all can do many things with the help of Google and Google assistance.
By using the Duplex technology the Google Assistant can already book your restaurant reservations over the phone. 
Now Google is planning to enlarge that technology to accomplish tasks online, like buying movie tickets.
This facility is avail only for Android Phones.
Now, Google's assistant helps you to buy Movie tickets on the web.
For your holiday activities with your family, friends or relatives, ask to the assistant something like 
"Hey Google, showtimes for the movie in Phoenix this weekend."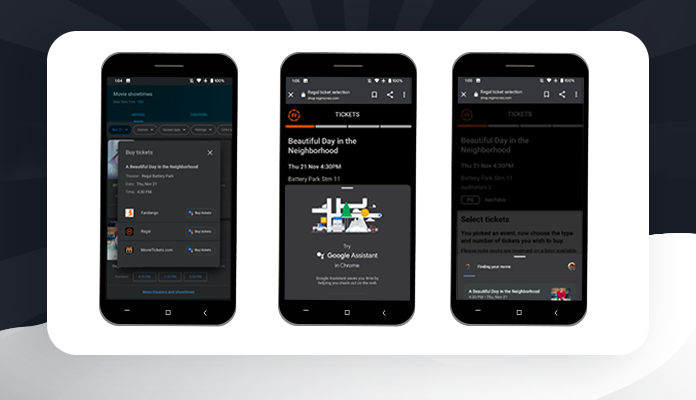 Else you can do this easily by a search for showtime from the Google app on Android.
After picking a theater and time that works best for you, you'll have the option to "Buy tickets" with the Assistant.
From more than 70 cinemas and ticketing services, such as Fandango, MovieTickets.com, AMC, or MJR Theaters in the U.S., or ODEON in the UK. 
From there, the Assistant opens in Chrome to lead you through obtaining your ticket.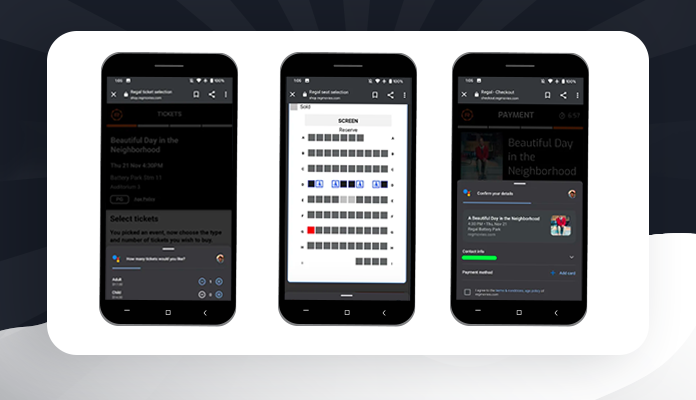 What is Google Duplex?
CEO Sundar Pichai introduced Google Duplex in May 2018 Google I/O developers conference.
The service worked with an AI-driven voice, it was created to help people make appointments to businesses over the phone, but without any interaction from the user.
Google Duplex's voice even put in words like "um" and pause breaks to make it sound more like a real human.
It could also respond back with correct answers to that real person's inquiries and questions. 
In November of 2018, the company announced that Google Duplex was rolling out to a select number of public users in a few U.S. cities. 
Where can you use the service?
Google Duplex now works in the US and UK according to its support site.
Which Device Supports Google Duplex?
Google Duplex was first launched for owners of its Google Pixel, Pixel XL, Pixel 2, Pixel 2 XL, and Pixel 3 and Google Pixel 3 XL phones. 
More recently, Google Duplex support has started to roll out to any Android devices running version 5.0 or newer. 
It's also starting to roll out to Apple's iPhones that have Google Assistant installed.
What Can You do with Google Duplex?
You can use Duplex is to make a reservation at a restaurant and purchase movie tickets online. 
In the future, the AI-based voice service could do a lot more instance, reservations for your doctor's appointment or set up a time and day to get your hair cut.
It's not exactly Google Duplex, but it does use Google Assistant to interact with a call making it obviously somewhat related.
So If you are in the UK or in USA, enjoy the hassle-free movie ticket booking.
For more updates, Stay connected with us.
Toddles!! ❤🙏