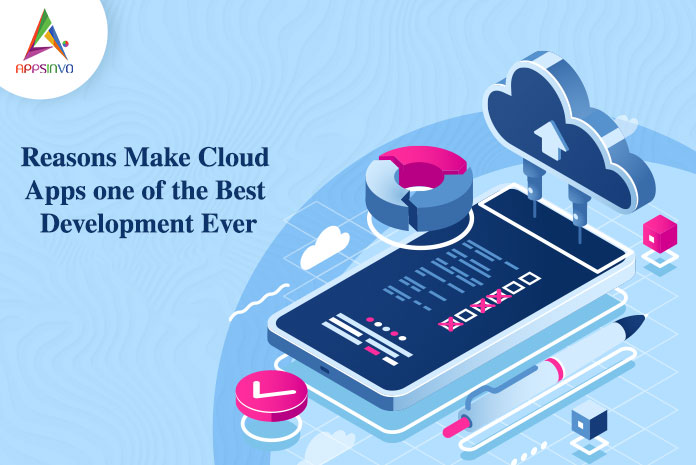 With the days, mobile app development and downloads are increasing. There are many mobile app developers who developed amazing apps for clients to stay ahead in this competitive market. In a research report, it is shown that more than 5 million apps available on the Google play store and Apple Store both. A few years ago, mobile apps have been native, users had to install the app into their smartphones to work. 
These native apps are designed and developed for a particular platform either Android or iOS. This is the reason that give the rise to the cloud apps, these apps are dwell on the servers and can be accessed through internet browsers. It would be great for the mobile app development companies to start a cloud app development process. 
It might seem daunting for the first time. It is high time to consider the cloud app development and if you are not aware of the reasons behind making it the best development ever. In this blog, we will give you the reasons why it is the best development ever.
Cloud Apps one of the Best Development Ever
Deploy for Both OS platforms
Cloud apps can easily work for both iOS and Android operating systems unlive native apps that are platform dependent. Therefore as a developer, your task gets simpler as it shows your app to a wide range of audiences. With the cloud apps, you do not need to get confused about which platform you should opt for first, Android, or iOS. Deploying your app on both platforms will have some important benefits for your app. Your app can get more installs instantly and more users using your app, which will result in more money. 
Lessen the Costs
If you have developed an app for a single platform it does not cost you much on the other hand if your develop an app for both Android and iOS platform the cost of the app development will go 2-3 times higher. Now if anyone wants to develop native apps for both platforms they have to pay more than double for the development. The best part of cloud apps is that it keeps the development cost low and it allows you to develop the app once and works on both the platforms. This is ideal for startups and other companies that can not spend much on native apps. 
Time-Saving
The time required to develop an app depends upon the app type, features, and the platform you opt for the native app. Developing a native app could be a lengthy process if you consider adding some specific features, this process will take time up to 6-12 months to develop your app. But this scenario is not with cloud apps, it does not take a considerable amount of time to develop and do not have to go through the process again. With the cloud app, you can mark your presence on both platforms. 
No Download Required
To use the native apps, you need to first download it on your phone afterward you can use it. But for the cloud apps no need to download the app to operate. Users can easily operate the app and use it on their mobile web browsers. Apart from all this, native app users have to update the time time to time but this is not with the cloud apps. 
Data Secured
Usually, native apps save the app data on the users' devices, this approach leads to several issues, the data can be lost easily and breakdowns with this framework. There is less chance of data listing once you are saved it on the cloud, therefore, cloud apps provide more data security as compared to the native apps. 
Data Recovery
With the native apps, all your data saved on your local device server what happens when your server destroyed by any cause. Anything can happen anytime, therefore, cloud apps are better in the data recovery because they save the data on the cloud and all data is saved on the various servers and backed up. So your data is safe for the unseen conditions also. 
Conclusion
As an app developer, if your basic aim include an economical and safe app development, consider the cloud app. Cloud apps will save your lots of time and resources. It is the best bet for mobile app development companies to deliver pleasant services to the users and clients and cloud apps also have some exclusive benefits. 
Till then, stay safe, stay at home, wash your hands, and be happy
For more updates, stay connected and keep reading
Toddles!!