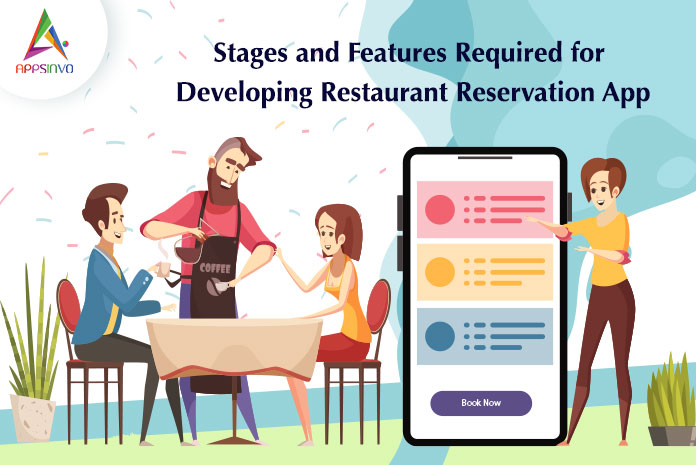 We are living in a world where almost every product and services are just a few clicks away. Almost every business has its own app and utilizes the digital world by providing its services to every person who is looking for it. We all are aware of ordering food online from apps like Dominos, Zomato, Swiggy, Food Panda, etc but booking seats in the restaurant are something distinctive. 
This app can be a savior for those who have a hectic lifestyle and do not have the time to visit the restaurant to book their seat and for those who are the food lover and can not wait for enjoying the food in their favorite restaurant.
If you want to develop an app that helps your users to book a seat in the restaurant, you will have to design it in such a way so it will deliver the flawless functioning and great features. Through this blog, we will put light on the stages and features you will require when you are planning to develop a restaurant reservation app. 
Benefits of Having a Restaurant Reservation App
For Owner
Get advanced information about the number of guests coming every day. 

The advance information assists you to prepare the food as per the booking and it can reduce the wastage of food.

Diminish the chances of empty tables, improve ROI, and improve sales. 

Get full control through a centralized and single platform. 

Through the direct reservation, it will increase your brand awareness

The loyalty program you run from your app will entice repeat customers.

Provide personalized customer experience by suggesting the meals as per their search and interest.

Key information helps the restaurants to analyze the guest expectations. 
For Guest
For booking the seat, guests do not need to call the restaurant team every time, they can easily book or cancel the seat. 

No more time wasted in waiting for the seat and in ordering the food.

Guests can read the reviews of the restaurant before making the reservation. 
Features Required in Restaurant Reservation App
For Guests
Easy sign-up or registration process via the phone number, social media accounts, or email.

Search bar to find your restaurants, food, location, time slot, ratings, reviews, etc.

GPS navigation so guests can easily find you without much hassle. 

Details about open and closed bookings

Secure payment gateway to allow the prepaid orders and refunds. 

Confirmation of the booking from the email or messages.

Notifications about the new offers and deals

Customer service section to resolve the common grievances and answer the FAQs.
For Owners
Dashboard where they can see the bookings and open tables.

Calendar to show the scheduled bookings, opening hours and manage waiting lists

Sending confirmation messages and email of booking and cancellation.

Get reservation history and guest information to suggest cuisines based on the bookings

PoS system to maintain the whole workflow.
Stages to Develop Restaurant Reservation App
If you are planning to develop an app for your restaurant business, here are the stages required to build your app and make it flawless.
Concept
This is the very first and initial stage for your app where the app development team will understand the concept and idea of your app and what is the unique feature or function you would like to deliver to your users. So they begin to work on the blueprint of your app.
Analysis
Now it is the time to search for your competitive analysis and market research of your competitors and try to find out how to make your app exceptional, top-notch, and feature-rich mobile app solution.
Designing
Our designing team will start work on it and make sure to follow the gesture guidelines and color combinations that make your app visually appealing and the features that your user base will definitely be going to love. But remember one thing, this phase is a theoretical phase where everything you approve will take the shape and work according to it.
Development
After all this, here is the most tedious and time-consuming task come, coding that requires a hell amount of time, and our developer team will start the coding.
Testing
Before launching your app in front of your public to make sure there is no bug and error left in your app, therefore, testing of your app is imperative. You can also launch the beta version of your app so a bunch of users will use your app and on their feedback, you can improve your app before the final launch.
Deployment
This is the last and the foremost stage for your app where it is ready to launch your app. Whatever you select the platform for your app whether it is Android or iOS, you need to take the permission of the google play store or app store. 
Estimated Cost to Build a Restaurant Reservation App
The cost of your app depends on the various factors and the features you are going to use in your app. We can calculate the estimated or nearly cost of the app development. As a top mobile app development company and with years of experience in developing the app, the cost of developing a restaurant reservation app costs up to $ 5500- 8500. For more in-depth detail you can contact our sales team, they will definitely help you out.
Conclusion
Let's take the benefit of technology and make the restaurant business more innovative and advanced because modern customers are always looking for on-demand services. This is the reason why you should develop an app for your restaurant.
Till then, stay safe, stay at home, wash your hands, and be happy
For more updates, stay connected and keep reading
Toddles!!