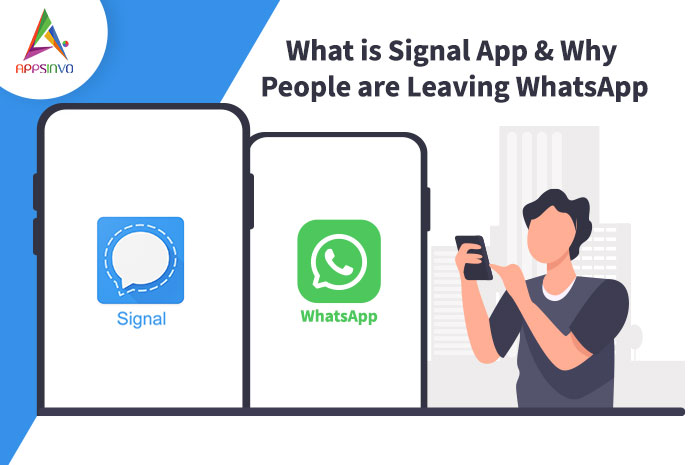 Up till a week ago, my 50-years-old mom thought that WhatsApp is the only best place in which she can share jokes, morale, and spiritual messages or have video calls and group chats with her family and friends. But since when I tell her about the new privacy policy of WhatsApp, she is spending hours learning and familiarize with the other alternatives of WhatsApp like telegram and signal app. 
My mom is not alone – she is also one of the 1.2 billion users who has started using the signal app since the start of 2021. With this WhatsApp has experienced an 11% decline in the number of weekly downloads. The reason behind this decline is the concern of the new privacy policy of WhatsApp.
If you are still not aware of WhatsApp's new privacy policy read our previous article. This article will tell you about what is a signal app and the reason why people are leaving WhatsApp and heading towards the signal app.
What is a Signal App?
The signal is an encrypted instant messaging app that enables you to send messages and make calls via the internet. Signal's USP basically aims at privacy as it supports group calls and chats too. The signal is an open source app and peer-reviewed code, which indicates its privacy and security are constantly monitored by professional experts. The signal app becomes a privacy-focused and best alternative of WhatsApp which is gaining attention and momentum in the wake of the outrage around WhatsApp's updated privacy policy. 
Owner of Signal app
The signal app is built and created by an American cryptographer,  Moxie Marlinspike. As we all know the app is developed by the signal foundation and messenger. The establishment of the signal foundation was on 10 January 2018.
Downloads of the signal app
The signal app is already available for iOS, android, windows, mac, and Linux and you can also signup through android and iPhone. Once you set up everything on your mobile, you can share the link on your computer or iPad and use the app even if your mobile is switched off.
Signal foundation
The Signal foundation that is also known as the signal technology foundation is a non-profit behind the signal app. The aim is to develop an open-source privacy technology that prevents free expression and allows secure global communication. This app eventually plans to promote other privacy-preserving projects too. 
Is the Signal App Safe and Secure?
The signal app is one of the most secure messaging apps that you can easily use right now. The end-to-end encryption of this app is so trusted that WhatsApp also adopted the same thing, this encryption makes sure about the privacy of the data so others can not do spy easily on your conversations. You can also turn on the further security features like setting another password other than OTP to log in to the app.
Is the Signal App Better than Whatsapp?
In terms of the features of privacy, the signal app is much better and secure than WhatsApp. However, if you really concern about the app features and using the messaging app, then WhatsApp is better than the signal app. The crucial part of any instant messaging app is its users and if your all circle is still on WhatsApp then no number of features can make the signal app more appealing. 
Why Should You Use the Signal App?
The main goal of the signal app is to render a platform where you can easily communicate without worrying about being spied on you. If you want this, the signal app is the best platform for you. In the recent news, WhatsApp newly issued privacy policies where this platform shares its data with Facebook and this chat can be shown to the public via a simple google search. Therefore, the signal is a much more private and safe alternative for the users. 
Till then, stay safe, stay at home, wash your hands, and be happy
For more updates, stay connected and keep reading
Toddles!!