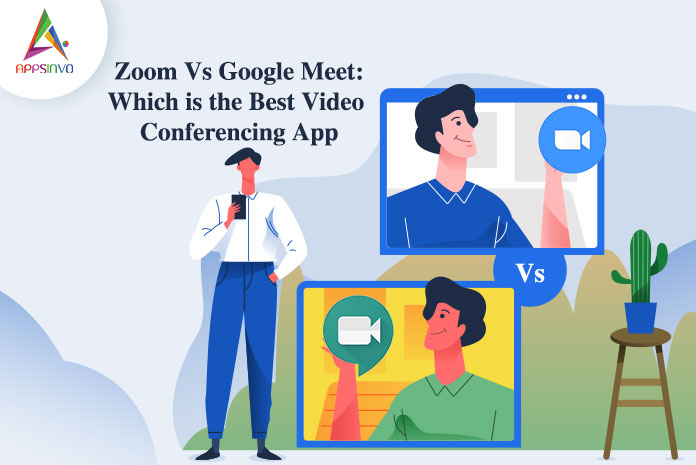 A high-speed internet connection and networking tools are the crucial parts of the latest technology and by all this, the world is becoming smaller. Due to the pandemic, when everyone is compelled to work from home, the remote working tools have been encouraged. The coronavirus situation forced organizations to operate remotely which was not planned. But without taking much care the pandemic is showing how remote work can be managed through the video conferencing tools and other such apps. 
There are several video conferencing apps to aid the team interaction face to face on a digital platform. Either it is about to connect with the team and discuss the project or chill time with the family and friends through the best video conferencing apps. There are numerous video calling or conferencing apps are available in the market like skype, WebEx, GoToMeeting, and many more that helps you to connect with the team members. These apps allow you to discuss the entire workflow through the screen sharing feature. 
Among the several video calling apps, the two most widely used and well-renowned video conferencing apps are Zoom and Google Meet. there are many app development companies that widely use these apps to meet their daily work requirements. There is no doubt that both apps are user-friendly, easy to use, and impressive. But still, there are some differences between the two you must consider that suitable match your needs. Let's see the differences between them
What is Zoom?
This video conferencing tool is available in most of the platforms such as Android, iOS, Linux, Mac, and PC. This app provides a zoom meeting for free so anyone can easily access the app and add more than 100 participants at one time. Users can also fix the meet time as per their needs. In terms of core potential, the zoom has audio and video capabilities, it has other capabilities like meeting recordings, screen sharing, transcription, and connotation. 
What is Google Meet?
Google meet is also a video calling app that renders free audio and video calls and group messaging for enjoying all these facilities one needs to have a google account. This video conferencing app allows to add up to 150 people to the chat and 25 people can join the video call at one time. Due to pandemic google meet has come up with many new features for free to its users. In this video conferencing app one can easily host the meeting of above 250 participants at a time and the live streaming feature supports 100k viewers. 
Difference Between Zoom Vs Google Meet
Account creation
It is not easy and delightful to deal and handle too many accounts so try to avoid creating another account for the video calls. With zoom it is great you do not require to have an account or sign up to join meetings, the host can easily form the link and can be entered. For Google meet, you can share the URL that is created when you host the meeting but for that, you need to have a google account. 
Video Quality
This is one of the essential factors consider while video calling, it is quality. Both video conferencing apps have HD video quality. But here zoom has won this battle because it provides video quality up to 1080 p and on the other hand google meet provides the video quality up to 720 p. 
Participant limit
Participants' limits can be a significant hindrance when you want to conduct a time taking and long video call. Therefore, it becomes important to beware about the limit, for google meet it is 25 – 10 is limit for the personal use and 15 for the business for the free accounts on the other side Zoom has increased this number up to 100 for free accounts.  
Compatibility
Google meet and zoom can be used in all devices and the primary OS. both apps are supported in Android, iOS, macOS, Windows, Linux and a web browser as well. Zoom has the benefit that it allows its users to attend a meeting via call. For google meet you do not have to install any other app to use it, you can easily access the google meet via Hangouts because it is a pre-installed app with Android.
Data Security
This one is a little it tricky. Zoom provides end-to-end encryption security which makes it technically better on the other hand hangouts have in-transit encryption that means data in secure after all it is Google on its way. 
Comparison Table
| | | |
| --- | --- | --- |
| Features | Google Meet | Zoom |
| Free Option | Yes | Yes |
| Price Range(monthly) | $6-25 per user | $14.99-19.99 per user |
| Platform supported | Windows, Mac, Android, iOS | Windows, Mac, Android, iOS |
| Call recodings | ✔ | ✔ |
| Screen sharing | ✔ | ✔ |
| Group Messaging | ✔ | ✔ |
| Integrations | Other Google services, skype, Pexip infinity | Workplace, salesforce, other google services |
| Other features | Encrypted calls | Encrypted calls, polls, whiteboards |
Wrap up
Both options are great in its own way, in terms of quality, reliability, and features zoom is the better option for the professionals on the other side google meet is a good option for those who do not need all features that zoom has and they do not have participants more than 10 and need more security. In the end, it all narrows down to your convenience and priorities because technology has a lot more to offer you. 
Till then, stay safe, stay at home, wash your hands, and be happy
For more updates, stay connected and keep reading
Toddles!!