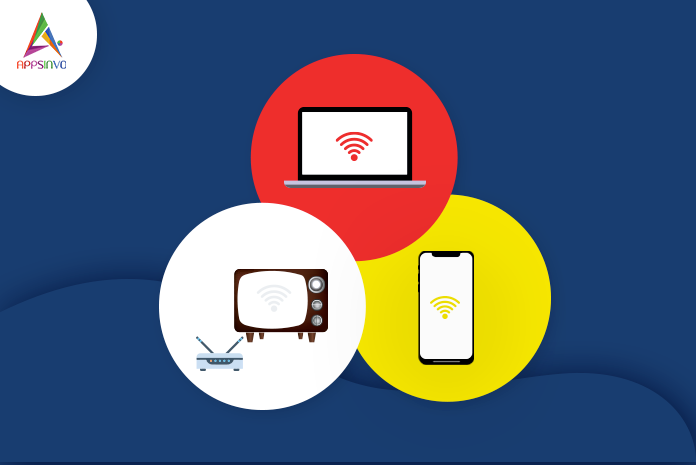 After waiting over a year, Chairman of Reliance Industries Mr. Mukesh Ambani finally launched JioFiber broadband service at the company's 42nd annual general meeting on Monday. 
As expected, the company has deranged the fixed-line broadband space and the rest of the pack will now play catch up.
Reliance Jio Fiber broadband service is scheduled to commercially launched on 05 Sept in India. 
The telecom operator revealed the full data plans of Jio Fiber and other details of its broadband and DTH services.
Before diving into the details of Jio Fiber broadband plans lets discuss

What is Jio Fiber
Jio Fiber is a fiber-to-the-home internet broadband service rendered by telecom operator Reliance Jio Infocomm, part of the Mukesh Ambani-controlled Reliance group. 
In 2018, the service was first announced as Jio GigaFiber at the Reliance Industries 41st annual general meeting, later renamed Jio Fiber, it is scheduled for commercial launch on September 5, 2019.
Jio Fiber has already received 1.5 crore registrations and the company is looking to penetrate the 2 crore residents and 1.5 crore business establishment across 1600 towns in India.
To lure more customers Jio Fiber has announced welcome offers for the early adapters.
Let's look at everything Reliance Jio Fiber Plans, Tariffs, and DTH Services details.
Jio Fiber Tariffs, Internet Speed, Data and more
According to the Reliance jio published the plans, the company had fixed plans initially from the 699 to 8499 per month.
The company offering a total of six prepaid plans, dubbed as the Bronze (At 699 Rs/month), Silver (At 849 Rs/month), Gold (at 1299 Rs/month), Diamond (At 2499 Rs/month), Platinum (At 3999 Rs/month), and Titanium (At 8499 Rs/month).
The speed also varies between the plans Bronze and Silver plans deliver the speed of 100Mbps whereas Gold and Diamond deliver the speed of 250Mbps and 500Mbps respectively. Both platinum and titanium will deliver the speed of 1Gbps.
Apart from these monthly plans, Jio Fiber will also provide long-term 3-month, 6-month, and 12-month plans.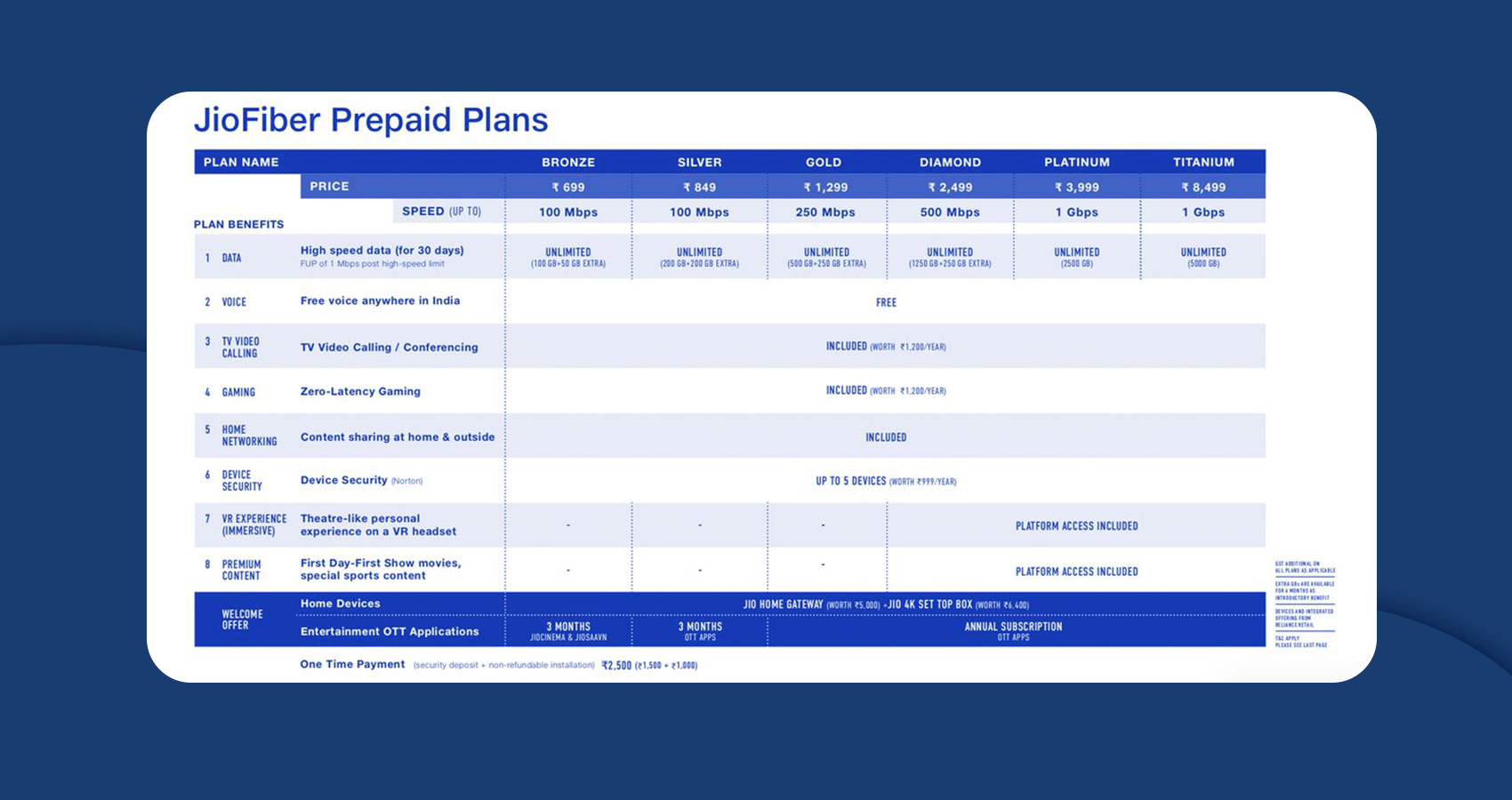 Jio Fiber Welcome Offer
Reliance Jio has also announced the Welcome Offers for the new Jio Fiber customers who choose JioForever annual plans. 
This offer will entail a free Jio Home Gateway device (worth Rs. 5,000), Jio 4K Set-Top box (worth Rs. 6,400), 2 months of extra service, and double data. 
Besides this, the offer indulges free 3-month access to JioCinema and JioSaavn apps for Bronze subscribers. 
The Silver plan purchaser will get a 3-month subscription for OTT apps, whereas Gold, Diamond, Platinum, and Titanium plan purchasers will get a free annual subscription for OTT apps. 
Free Goodies:
Bronze Plan:

Muse 6W speaker 

Silver Plan:

Thump 2 12W speakers 

Gold and Diamond Plan:

24-inch HD TV 

Platinum Plan:

32-inch HD TV 

Titanium Plan:

43-inch 4K TV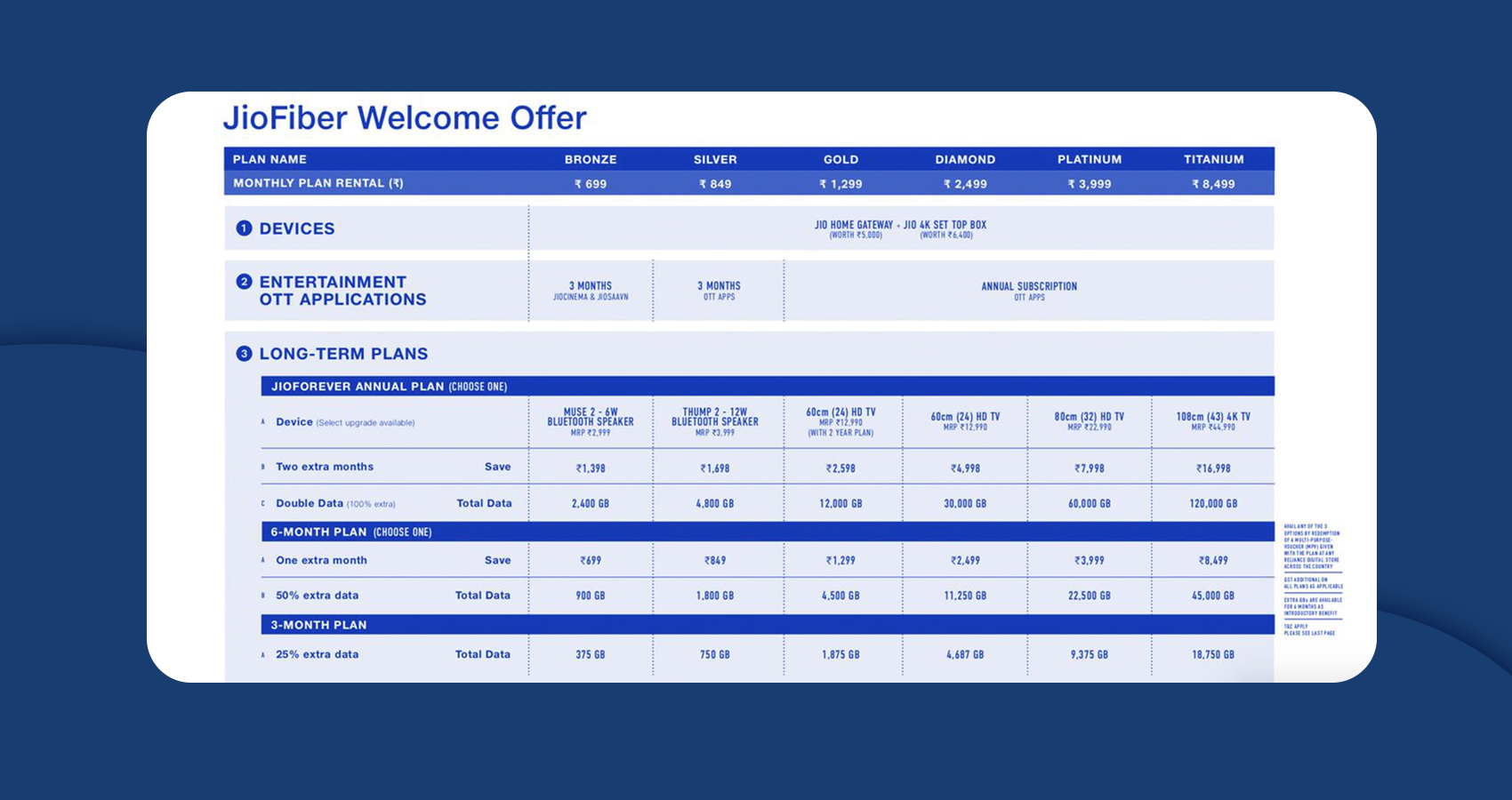 Jio set-top box
The set-top box from reliance jio will offer the unmatched television and gaming experience.
The set-top box is able to receive the cable signals from the Local Cable Operators (LCO).
Jio set-top box will also support all the popular gaming controllers and has a built-in graphics card. It will support 4K display and offer a zero-latency gaming experience using the Jio Fiber network. 
Jio Set-Top box will also support Mixed Reality services, including MR shopping, MR education, and MR movie watching.
Landline Services
Reliance jio fiber offers fixed-line services with all of its Fiber packages. Voice calling to any Indian operator would be free. Jio also promised to reduce the prices of international calls.
How to Register for Jio Fiber
Interested users can register for Jio Fiber Connection through either  Jio's official website or MyJio App. 
If jio fiber is avail at your location a jio representative will connect with you after the registration.
Credentials required for Jio fiber installation is any ID proof and address proof. The connection would roughly take 2 hours from the time the engineer visits your home.

So, hurry up to register for a jio fiber connection and enjoy the connection with awesome goodies.

For more updates, Stay connected with us.
Toodles!!!