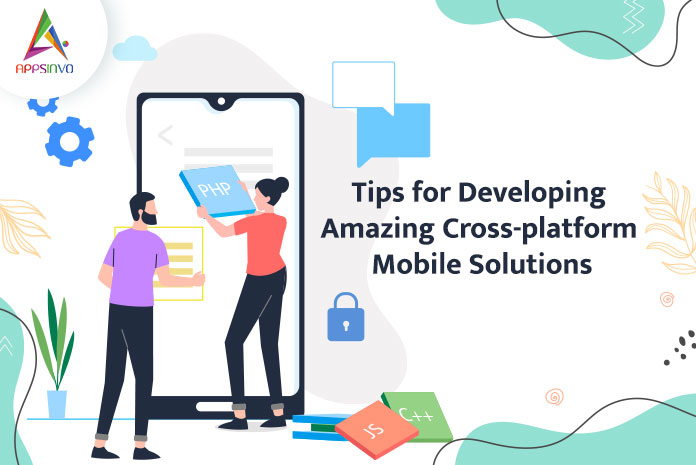 Today, every business is started making smart choices and going for the choices that are known to drive growth and reliability. The mobile app development companies are understanding the evaluation and demand all the possible channels to make sure that the company goals and models match.
Mobile apps are ubiquitous and the best platform for mobile apps are android, windows, and iOS. This will entice some problems for the developers who wish to make cross-platform mobile app solutions. It is not as simple as we think to develop a cross-platform app development. 
Just like another app, it also has many aspects that can go wrong, and to prevent this, the best and highly profound developers can do and implement the right way of development. The main objective of developing the cross-platform app aesthetically, enhance the user experience and aim at the user interface.
Therefore in today's article, we will give you some amazing tips for cross-platform app development that will assist you to build a great mobile app solution.
Tips for Developing Cross-platform Mobile Solutions
Build an attractive app
Mobile app solutions are becoming popular because of their easy indulging power with the users and make them use the app again. therefore, it is mandatory to build an app in a manner so it can easily seek users. From all aspects, it should look great, appealing, and engaging to the users. Cross-platform mobile app solutions make you compatible to use all platforms easily and build your brand awareness. This will ensure the success of your app without losing recognition.
Platform-independent model
It is not a new thing for the developers to focus on developing an app especially for one platform like android or iOS. When it comes to addressing the technical glitches in the app, cross-platform mobile apps are the best app service. This will deliver a better structure for various platforms and make your app platform-independent.
Follow UI Guidelines
Developing a mobile app for a particular platform makes you use and follow the strenuous guidelines that developers need to consider while developing the native app to cater to the diversity of the platforms. If you want to deliver a phenomenal user experience, you can go with cross-platform mobile app development.
Modules 
Various perks you will get by obtaining by using these modules to assist the app development for the cross-platform app solutions. This will not only saves your time on the development process but also give exposure to your business. These modules can bring a lot of information to the process. 
Testing
With the comprehensive elements and right order, the cross-platform app development delivers unique and intuitive mobile app solutions. This will assist you to include and test all the features, but it is essential to have all the platforms that the app will use. 
User-focused
While building an app, the user must be an integral link. There is no difference when developing a cross-platform app. This will help you in understanding the whole scenarios and give you a better option that will improve the app's features and usability.
Final thoughts
These are the few tips and points that make cross-platform mobile app development. The new businesses and startups need to aim at all the audience that is available on multiple platforms. For developing your cross-platform mobile app solutions you should hire a well-experienced and highly skilled mobile app development company. 
Till then, stay safe, stay at home, wash your hands, and be happy 
For more updates, stay connected and keep reading
Toddles!!