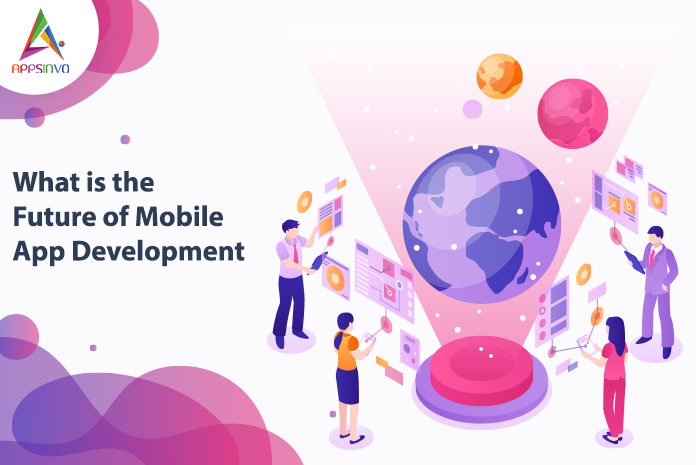 We all have heard that "our future is in our own hands" and it is true. If we talk about mobile apps, the future of mobile apps is actually in our hands. Mobile app development is the one sector that is experiencing tremendous growth and continues in the future as well. Now if you are looking to develop an app for your own, you will have to keep an eye on the latest technology and develop your app as per keeping the future trends in mind. Let's see what is the future of mobile app development.
Internet of Things
IoT or those devices which have prefix Smart can be related to the internet of things. There are already many things like smartphone, smartwatch, smartTV, smart homes, camera, thermostats, smart cars, and plenty of the same thing are belong to the Internet of things. The usage of smart things is increasing day by day because of their features that can easily attract human beings which is the reason behind its tremendous growth in the market. In fact, voice assistants like Apple homePod, Amazon Echo, and google home are high in demand and we will see them more in the upcoming days. 
Artificial Intelligence & Machine Learning
AI and ML have already become an integral part of our mobile app development and a bright future mobile app development trend. If you want to provide the personalized experience to your users, Should use AI in their mobile app development process. Take a small and relatable instance, we all use Netflix, its users the AL to get algorithms of user behavior, and suggest to them shows and movies as per their search and like-dislikes and the dating app Tiner uses the Machine learning to enhance the chance of user will find a match. Now, google maps also started using the AI to render the best services to its users. 
Augmented & Virtual Reality
AR and VR are not just for the present technology, it is a future of mobile app development and design. AR and VR have completely altered the gaming industry through its intriguing features and it is all starts with the game Pokemon GO and it never goes out of trend. This trend not only benefiting the gaming industry, but there are also many fields like real estate, health, furniture, eCommerce, and many had started using the AR and VR and taking the benefit of this future mobile app technology.
Blockchain
Blockchain is not just the technology behind the cryptocurrency but has much more to it. It is like a digital account book that keeps the record of every transaction and helps to make transparency transaction that diminishes the risk of fraud and other malpractices. The implementation of the blockchain is not just limited to the financial transaction, the blockchain technology can be used in where you need to track items, control the quality, and manage security levels. Exchange markets like digital wallets, tracking, smart contracts, and eCommerce have already implemented blockchain into their business. 
Chatbots
Those days are gone when chatbots only used in messaging services like Slack, Skype, and Facebook. It is like a self-service framework so that users get a quick response to their queries and issues. With the emerging technology advance, it is become easy to integrate the chatbots in our websites and mobile apps that enrich the user experience. The chatbot provides conversational experience to the apps and the users which is great for engage with the user and aid to retain existing customers. 
Wearables
Wearables have traveled the distance from the luxury item to the necessity. Manufacturing and sales of the wearable devices experience a high boost due to the people who are fitness freak and highly focused on their health. Wearable devices can be used to check your heart rate, calories, blood pressure, and many other things. Apart from all these wearable also tell its users about the notifications, set reminders, alert about the calls, and aid to complete daily goals. These features help in managing lifestyles, sleep patterns, and manage water intake. But every wearable needs an app for proper function and this is the reason that makes wearable the future of mobile app development. 
Conclusion
If you are twirl with the development and want to stay ahead of your rivals, get to know about the future of the mobile app development is necessary for you. If you don't know learn above the latest trends and try to implement them in your development process. Each of the above trends is already in use at the present time and will continue to rule the app development industry in the future.
Till then, stay safe, stay at home, wash your hands, and be happy 
For more updates, stay connected and keep reading
Toddles!!