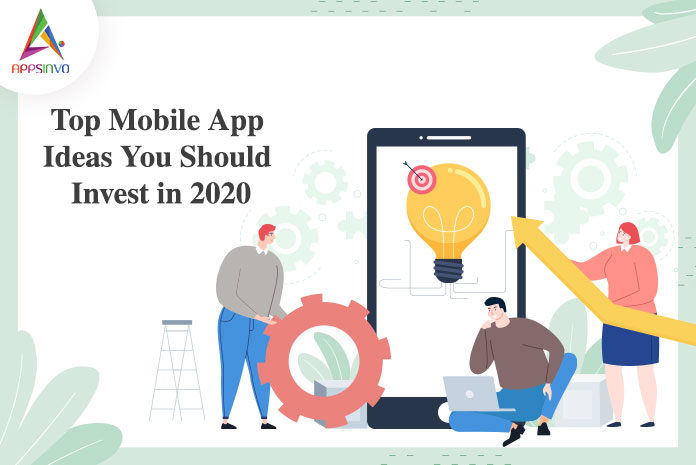 Apps are becoming a crucial part of our lives, it is the disruptive yet beneficial solution. The apps are not just beneficial for smartphone users, it is equally beneficial for the businesses too. It provides a great industry where you can invest easily. According to a study, there are more than 3.2 billion smartphone users all around the world. So in another perspective, you have 3.2 billion user base to deliver your app and this figure is not including the tablet users. 
The users spend most of their time on smartphones and this helps the app developers and businesses and this makes the businesses shift towards the modern trend and trying to deliver their services through the mobile apps to their clients. So here is some mobile app idea for businesses should invest in 2020 and get a chance to earn more revenue. 
Mobile App Ideas You Should Invest in 2020
Scan & Shop Apps
This is the best app for those who are fashion fashionista and love to do shopping. This kind of app allows users to scan the item they want to buy and find it or its similar apps on the online shopping platforms so, users can buy it easily without wasting the time in the market. According to a study, more than 60% of people use their mobile phones to make their purchases and this makes it one of the best mobile app ideas businesses should invest in 2020. By this method, mobile app development companies can offer their value-added mobile apps to e-Commerce businesses and customers.
Gaming Apps
After seeing the popularity gained by the Angry Birds, Pokemon GO, LUDO Kind, Clash of Clans, PUBG, and many more gaming apps, the gaming industry is booming day-by-day. This field is becoming the biggest revenue generation field. Billion of peoples are downloading gaming apps that make this industry succeeding in the world. The gaming apps are contributing 76% of the total revenue earned by the industry. This is why many companies are investing in the gaming apps and looking at the app development companies that can develop a multiplayer, challenging, real-world interaction gaming app.
Payments Apps
We all know the COVID-19 is a contagious virus, sharing money is also risky at that time paying money digitally help the people a lot in this pandemic time. Payment apps like Paytm, Google Pay, PhonePe, bank-based internet banking makes the life of the common man easy through all these platforms anyone can share money to anyone or can pay at the shop just by scanning the QR code. Therefore, today many businesses are trying to develop payment apps.
Due to COVID-19, print media is one of the industries that got affected the most. At that time being digitalized help many print media by providing their magazines and newspaper on their specific app or on websites. This increases the demand for news apps among the businesses and companies so they can consistently deliver their services to their users. Developing such kind of app is also a great idea, through this, the companies can deliver the latest national and international news to their users through push notifications on their respective mobile devices. Through mobile apps, the reader can easily read the news, article, e-newspaper, and online magazine. 
Due to this pandemic, educational institutes, schools, colleges shut down because of lockdown, and many exams got delayed or canceled. This pandemic has affected not only our lives but also our education. To recover the education many people are using the educational apps that not only help them to cover their syllabus on time but also give some extra knowledge beyond the syllabus that will help them later.
There is no ending sign for the business of on-demand apps either for booking a cab or ordering online food through Zomato, Swiggy, or food panda, it is growing day-by-day. Some companies like Uber, Ola, Rapido, etc are ruling on the on-demand cap booking apps, and on the other hand, Swiggy, Zomato, is ruling on the on-demand food delivery apps. After seeing this tremendous growth in the on-demand business, many companies are jumping into this market and trying their luck. If you are also planning to develop an on-demand app for your clients, you will need to hire a mobile app development company that builds innovative, simple, and appealing mobile apps. So, your customers can order their food or cab as per their demand. 
Conclusion
So there are many fascinating and unique ideas for mobile app development that could work for you in 2020 and later. Look around you. Identify the problems and challenges that a common man is facing in their normal lives and try to find out how an app can resolve the difficulties that help you to think and find out how to invest in mobile app ideas that will be proved profitable for your business. 
Till then, stay safe, stay at home, wash your hands, and be happy 
For more updates, stay connected and keep reading
Toddles!!